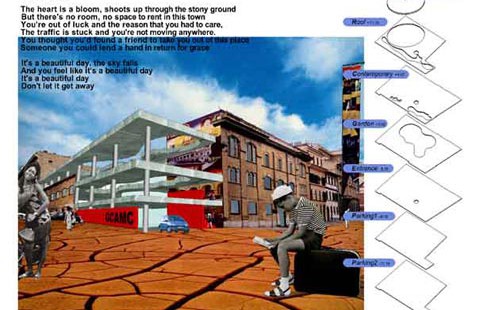 explosiva
explosiva, competition project. roma, italy | 2001
---
project by: cristina casula, alessandra esposito, stefano mirti, francesca sassaroli, timothy heys cerchio / CLIOSTRAAT
con: federico de giuli, cristiano pistis.
---
PROGETTO DI CONCORSO PER L'AMPLIAMENTO DELLA GALLERIA COMUNALE DI ARTE MODERNA
E CONTEMPORANEA, ROMA – 2000
Competition project for the extension of Galleria Comunale d'Arte Moderna e Contemporanea, Roma – 2000
In the context of Rome as a melting-pot city, made by permeable stratifications, the structure of the new gallery had to be as flexible as possible. The exhibition rooms are interconnected by spaces that can be transformed and used according to needs. An urban terrace can host any kind of event. The main structure of the gallery extension is realised by multiple layers of concrete platforms.
The platforms can be seen through, both from the outside and the inside. Double height volumes and skylights are cut-out of the concrete slabs in order to vary the interior space. Volumes are light and they can be transformed and modified.
Visitors should not only be specialists or regular customers of museums and contemporary art exibitions. The renovated gallery becomes a modern cultural center, a reference point for different kinds of people, a place to enjoy and meet people, to learn and debate. A structure that lives 24 hours on 24.
progetto:
cristina casula, alessandra esposito, stefano mirti, francesca sassaroli, timothy heys cerchio / CLIOSTRAAT
con: federico de giuli, cristiano pistis.