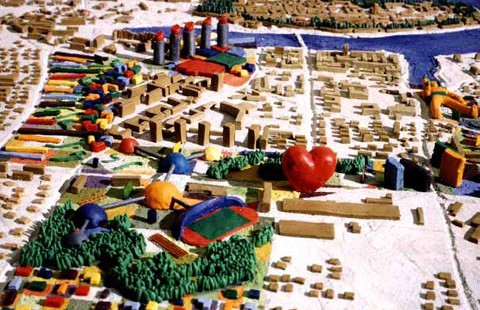 wild at heart
urban design competition project. zadar, croatia | 1996
---
project by: CLIOSTRAAT
---
europan4 competition: to build the city over the city. 1996.
first price.
A NEW FACE FOR ZADAR
Cannes is the city of cinema, Zadar has to become the city of youth, of youthful culture.
The Biennial of Young artists, a yearly Woodstock, youth movie festival,sporting events and meetings, jazz and blues festival, universitary seminars and meetings.
let us not forget that architecture is the simplest way to articulate time and space,to model reality and to make people dream. In a word, a project of architecture like MTV.
architecture as a mass medium: first target an extremely advanced system for the production of imaginary.Zadar: Wild at heart, the most incredible centre of the whole Mediterranean must be devised as if it were for.
in a border-area squeezed between two different pattern of urban expansion, the aim of the local government is the creation of multiple gravity poles, for a future development of the town.
an office district, a residential area and several public activities. the project is inspirated by a true pop attitude, directly translated in volumes and shapes.